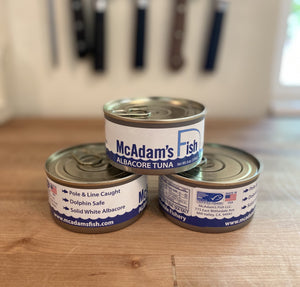 McAdam's Fish
Canned Albacore Tuna - 3 Pack
Regular price
$21.75
Sale price
$22.50
Unit price
per
Only the highest-quality, hand-trimmed albacore
Pole and line caught in the Northern Pacific and New Zealand
Rated 'Best Choice' by Monterey Bay Aquarium Seafood Watch
High in omega 3 fatty acids
Low in mercury 
Fully cooked and ready to eat
High in protein 
Appropriate for a variety of diets including Paleo, Whole30, and Keto
Albacore tuna is mild in flavor with white flesh and a flaky texture. At McAdam's Fish we work with a small, independent cannery in the Pacific Northwest that trims, packs, and cooks all of our canned albacore by hand. The result is the highest quality canned tuna you can buy, made up of large chunks of flaky white albacore. The only thing added to our canned albacore is a pinch of salt.


Highest in omega 3s
The young albacore caught by McAdam's Fish are prized for being both incredibly delicious and healthy. They contain much higher levels of omega 3 fatty acids than older, larger fish that range in deeper waters. Several studies have shown a 4oz serving of albacore tuna to contain nearly 1,000mg of omega 3 fatty acids or about the same amount found in most fish oil supplements. Learn more about the benefits of omega 3 fatty acids.
Lower in mercury
Controlling the amount of mercury in fresh, frozen, or canned albacore tuna is easily accomplished by catching younger, smaller fish who have accumulated a lower level of mercury than larger tuna. McAdam's Fish pole and line fishing method only catches smaller albacore around 3-5 years of age from cool waters in the Pacific Ocean. These fish have been proven in scientific studies to have a much lower level of mercury than the older, larger fish often caught in other areas by other fishing methods. 
---