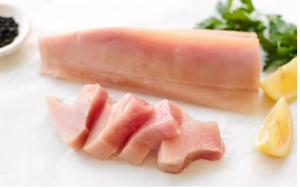 McAdam's Fish
COMING SOON - Whole Albacore Tuna Loin (1lb)
Regular price
$18.99
$0.00
Unit price
per
The same hand-trimmed albacore prized by sushi chefs worldwide
Pole and line caught in the Northern Pacific and New Zealand
Rated 'Best Choice' by Monterey Bay Aquarium Seafood Watch
High in Omega 3 fatty acids
Low in mercury
Flash-frozen on the boat to lock in freshness and nutrition
Appropriate for a variety of diets including Paleo, Whole30, and Keto 
McAdam's Fish albacore loins are the best way to eat truly sustainable, sushi-grade tuna at home. Because each fish is caught one at a time by hand and processed onboard, our albacore is exceptionally high in quality and flavor and is prized by sushi chefs around the world. On top of being MSC certified, our pole and line-caught albacore is rated 'Best Choice' by the Monterey Bay Aquarium Seafood Watch.
By flash-freezing our fish onboard our boats as soon as they're caught, we stop the clock on freshness and ensure you get the highest quality fish possible. And the health benefits? Freezing locks those in as well so you can feel good knowing your frozen albacore is as full of flavor and nutrition as the day it was caught.

Sashimi quality at home
At McAdam's Fish, our favorite way to enjoy albacore is simple: sashimi! We love it with nothing more than a squeeze of lime and a pinch of salt. But there are a ton of other great ways to use albacore, fresh or canned.
Highest in omega 3
The young albacore caught by McAdam's Fish are prized for being both incredibly delicious and healthy. They contain much higher levels of Omega 3 fatty acids than older, larger fish that range in warmer waters. Several studies have shown a 4oz serving of albacore tuna to contain nearly 1,000mg of omega 3 fatty acids or about the same amount found in most fish oil supplements. Learn more about the benefits of omega 3 fatty acids.
---